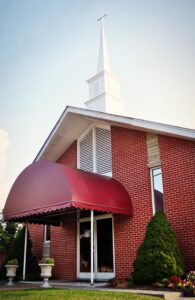 The Bible– We believe that the Bible is the very Word of God. It has both the answers for eternity and for life in this world.
The Blood– We believe that the blood of Jesus Christ paid for the sins of the World.  "Without the shedding of blood there is no remission (forgiveness) of sins." Hebrews 9:22.
The New Birth– We believe that "except a man be born again, he cannot see the kingdom of God." John 3:3. Anyone trusting in Jesus Christ alone as his Savior, realizing Jesus died for his sin on the cross and rose again from the dead, is a child of God.
The Blessed Hope– We believe that Jesus is  coming again. 1 Thessalonians 4:13-18.We are assured that one day Jesus will come again and take us to heaven, "And now, little children, abide in Him; that, when He shall appear, we may have confidence, and not be ashamed before Him at His coming." 1 John 2:28.
The Balanced Life– We believe that the Christian life is one of balance. Ephesians 4:15 tells us to "speak the truth in love, that we may grow up into him in all things…".  Only truth gives a legalistic life. Only love gives a licentious lifestyle. The bible says we need a lifestyle based on both Truth and Love. that lifestyle creates a balance.We desire to teach God's  people how to have that BALANCE.